Made by
: A_C
S2U2 is a simple lock/unlock application which has the iPhone style slide unlocking. It can be used as a screensaver while you don't use your device. And it's has a CallerID function.
Updates:
- added GIF format support to Wallpapers; with option GifSpeed to control the animation speed. (there is no GIF file included in the CAB file as I don't want to get into any copyright trouble)
- added option to select a directory for S2U2 to change the wallpapers (
*.jpg
) automatically; with option to control the changing period & change them randomly.
- added support to display over-sized Wallpapers.
- added option to change the font of the Clock (clock\, clockH\ or clockHS\).
- added option to display an Analog Clock (clockA\).

(From left to right: clockH\, clockHS\ & clockA\)
- added ARGB PNG format support to all graphics files.
- added ShowWeather to retrieve today's weather forecast from other weather applications. For UserWeather, you have to manually update the registry key UserWeather (STRING) under \HKEY_CURRENT_USER\Software\A_C\S2U2. The format is "icon|index|high temp|low temp" where icon is S, P or W.
- added SIM card support to CallerID.
- added option S2AEndKey to enable/disable the End key when S2A is activated.
- added option NoSoftKey to hide all soft buttons. But how to UNLOCK? Press the RIGHT-DPAD.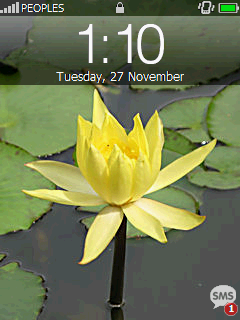 - added option TopCurtain to enable/disable the display of the topbar.png.
- added the BT headset status icon.
- added an Exceptional applications list that when these applications are running, S2U2 will not start automatically. (Edit the Registry, under \HKEY_CURRENT_USER\Software\A_C\S2U2, add a key ExceptionEXE0 (STRING) with the name of the application (e.g. iexplore.exe). A total of 10 (0-9) ExceptionEXE can be added. Then restart iLock2.)
- fixed the issue that DirectDraw could not be used when the device is in Landscape.
- fixed the issue when S2A is enable, the BT headset button did not work.
- fixed the issue when "Password/Pin Lock" or "Owner Information" are enabled.
- changed some wordings of "s2u2 Settings.exe"
- some bugs fixed
Addons
Language pack available
here
Clock pack is
here
Installation:
- If you have Slide2Unlock installed, please uninstall it first & then soft-reset.
- After installation, there are 3 shortcuts created under \Program Files\S2U2:
iLock2.lnk - start/stop ilock2.exe (on the 1st run, it runs silently in the background; on the 2nd run, it closes iLock2 & S2U2)
s2u2.lnk - manually start S2U2 (be sure iLock2 is running in the background, otherwise the Battery status will not be updated).
s2u2 Settings.lnk - change the settings of S2U2.
- A shortcut for iLock2.exe is created automatically under "\Windows\StartUp" as well.
- Installation on Storage Card is not recommended for the sake of stability.
- For hi-res devices, d/l the S2U2ClockPack.rar & follow the steps in the ClockReadme.txt. Otherwise the clock will be shown as half-sized.
- For additional clock fonts, d/l the S2U2ClockPack.rar & follow the steps in the ClockReadme.txt.
- For non-English devices, d/l the
S2U2LanguagePack.rar
; extract your language's ini file; rename it to lang.ini; copy to the S2U2 installed folder; restart iLock2.
for more information check this developer
forum post
You can download the Clock Pack also
here
.
Download

S2U2 v0.98 free for Your Windows Mobile Phone
.
m
o
b
i
Mobile friendly download
Download S2U2 v0.98 direct on your windows mobile phone